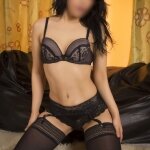 michelle
Booking a Airport Escort
Airport Escorts is open 24-hours a day, 7 days a week, enabling us to offer the very best selection of beautiful ladies for our clientele. We cater for singles, couples, ladies, groups and clients with special needs.
You will find our charges to be lower than most of our competitors and yet our quality of ladies is far higher. We always have a superb selection of ladies to choose from, ages ranging from 18 to 40 and various nationalities. Furthermore it is our Company policy to continually introduce new ladies.
Organising a visiting massage to your home/hotel, or an escort for the evening, weekend or week, is very simple and totally confidential. All you have to do is dial our main switchboard number 01707 647777 and speak to one of our trained receptionists, who are there to assist you in a quick and efficient manner, Within five minutes of your call the lady of your choice will telephone you direct to discuss her details and charges. If you find at this stage you are not compatible then we shall select another lady for you. There is no obligation whatsoever on your behalf and your contact number is destroyed.
Subject to your location, we can normally have the lady/ladies of your choice arrive with you within 30 minutes to one hour.